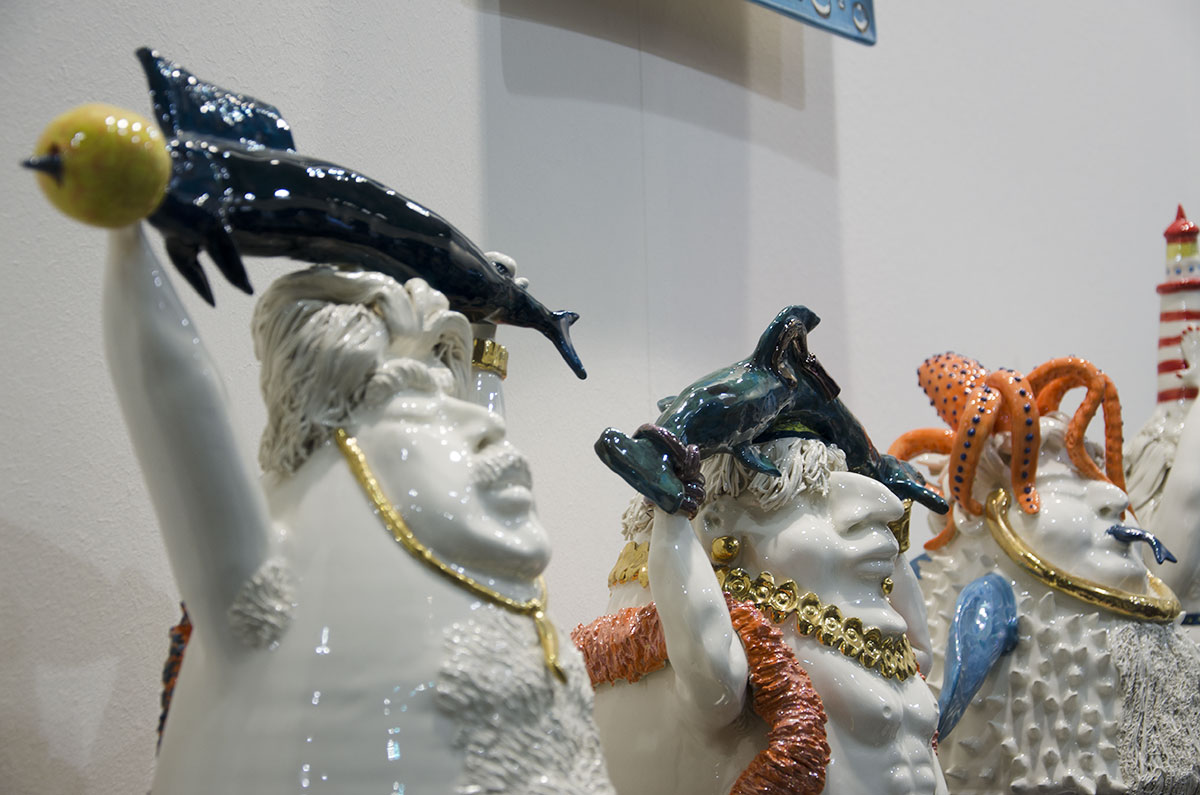 Publishing some photos taken during the January 2016 edition . The subjects are obviously made of ceramic or porcelain: that is what interests our readers.
Among the changes, I highlight some collections:
VG New trendpresents cylindrical vases with a rectangular section, with references to Greek and Roman classical art, ancient art inserts of primitive and modern forms.
Futuro d'Arte Ceramiche presents its Sea collection: human figures starting from a simple form moulded on a lathe which are then completed with handmade inserts, one by one, all embellished by the gold finishing in third fire. The fish adorned with ceramic curls and finely made decorations are really original.
USU Unique Simple Usefull, took to the fair earthen ware(majolica) oil bottles with olive cap and a felt and wood drip in, with nice packaging for corporate gift boxes and for very special oils. USU also presents the finger-food spoon, in majolica but this time it is coloured. The creators of these original products are Alessio and Marco Zanzarella.
Ceramiche Basso, exposes a collection made "a spaghetto", where the filled parts are drawn by thin ceramic wires as if to emphasize the solidity and lightness that this matter can express. Also notable is the use of coloured crystal, honey and brown that give the ceramic a soft flavour, some would say "caramel".
Napoleon, has always specialized in porcelain flowers; this edition is dedicated specially to the table furnishing for romantic parties.
Lanzarin Ceramiche, His world of handmade ceramic flowers managed to penetrate new markets where flowers, either fresh or made of other materials are always present.
Sibania, Not many know how to work the porcelain like Sibania: The embodiments, the tissues and the expressions, are made of a material that become hard as stone after firing at 1250 degrees, but by their hands its shaped like a soft fabric and painted with the most subtle nuances.
Principe, The Principe Capodimonte porcelain has become a collector's item among the world's admirers of this style and this precious material. Remarkable is the collection "total white" where a golden thread enhances the play of light and shadows: the only decorative element.
Boxer Ceramiche, Leopards, jaguars, tigers and other big cats of the jungle and Savana filled the stands of Boxer , a company specialized in the production of ceramic animals.
Zampiva, When you enter the stand of Zampiva (also known as Pastelceramica) it seems to be sitting at the edge of the arena of a circus: large ceramic clowns stand out perched above brightly coloured bins. Taking a better look around, this world of fantasy is enriched by other characters such as wizards, fairies and dolls that bring joy and care-freeness.
Ceramiche F.L. Also known to many people as Ceramiche Orgia, created the `white and gold` collection, where gold is a shining thread that enhances the reflection of light: a frame for every detail and a precious touch to the majolica furnishing.
Lineasette, Its originality has distinguished this company from the very beginning, they have a style I would call "Lineasette". Although over the years the contribution of many designers did make this brand grow, Lineasette has always managed to stand out and remain recognizable, despite ongoing research not only of new models but also of other `languages`. In these photos we wanted to highlight the harmony of a hug seen with their hands and eyes.
Rebirth Ceramiche, In this case we can easily speak of stylistic avant-garde collaborating with artists. The contamination of style is greatly enhanced by the insertion of the ancient Baroque lines(which are still a part of the Rebirth production), primitive forms, such as cones, spheres, cylinders or cubes . The combination of strong colours challenges the buyer, because you have to be a bit 'original to get these strong character pieces for your house.
Salva